Valley Oil Helps You Handle Heating Bills
Are you looking for a way to lower your winter heating bills? We have the answer. Valley Oil offers payment and pricing plans that help our Central New Jersey neighbors control energy costs and make monthly budgeting easier.
NEIF Home Energy Improvement Plan

Valley Oil is proud to be a NEIF-Approved Contractor for Home Energy Improvements!
Looking to improve your home energy usage? Let us help. When you give your home an efficiency boost, you'll enjoy better comfort at a lower cost and now through the National Energy Improvement Fund you can do so with low monthly payments, which can quickly be offset by your annual energy savings. NEIF will finance 100% of energy improvements up to $25,000, with a true fixed rate, fixed monthly payment. Contact us to find out more and to see how much you'll save with a NEIF financed upgrade!
Click here to start your application

SmartPay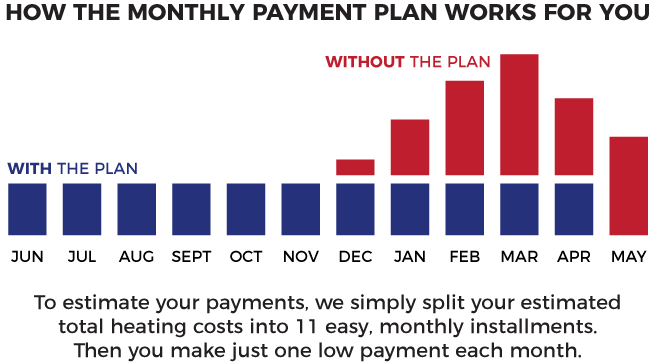 If you pay for your Bioheat® Fuel on a per-delivery basis, you pay for the majority of your year's heating costs over 4-5 months, and could have to pay for two deliveries in a single month!
SmartPay spreads your estimated heating costs out over 11 consistent monthly payments, even if you receive two deliveries within a billing cycle. You can even roll your Comfort Plan into the monthly payments. You know in advance how much your heating fuel bill will be every month. At the end of the season, we settle up, whether you used more or less fuel than estimated, and if prices rose or fell. We can make an immediate adjustment or roll the difference into the next year's payment structure.
Price Protection with Price Cap
Home heating fuel prices change daily. They can be affected by weather, Wall Street and political issues at home and in other countries. Price Protection with Price Cap helps manage pricing volatility by setting a ceiling on the price you'll pay, no matter how high prices go. If prices drop, you pay the lower price. If prices go up, you don't pay more than the ceiling, or price cap. Please note: There's a fee for the insurance to protect your fuel price. Valley Oil gives you the first year of price cap insurance free. Annual fees may change - please call us for this year's cost.
Control your heating costs today. Call (609) 466-0015 or contact us right now.
Become a customer today!
Call (609) 466-0015