Heating and Air Conditioning Equipment Sales and Installation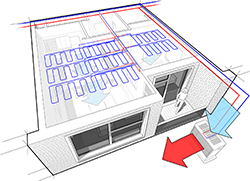 We offer a full line of home comfort equipment: oil or gas powered high efficiency boilers, furnaces, heat pumps, and water heaters, as well as central air conditioners, ductless mini-splits, smart thermostats and more.
When it's time for a new system, let our heating and cooling specialists help you pick out the right equipment for your home. We will review your home's size and layout, your current system, your usage patterns and your budget to find the perfect high-efficiency upgrade for your needs.
New, higher efficiency heating and air conditioning systems can lower your energy bills by up to 40 percent, and we can help you apply for any available low interest financing, tax credits and industry or manufacturer rebates.
Call or contact us today to schedule a no-obligation consultation.
Become a customer today!
Call (609) 466-0015