Heating and Bulk Fuels for Central New Jersey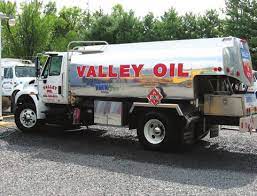 Fuel delivery has been the foundation of our business since 1970. Today, New Jersey home and business owners rely on Valley Oil for dependable delivery of renewable liquid heating fuels – Bioheat® fuel – as well as diesel and gasoline.
Automatic and Will-Call Fuel Delivery
Your home is your castle, and Valley Oil offers delivery options to let you decide how much service and control you want over your Bioheat® fuel delivery schedule.
Automatic Delivery
Automatic delivery is the gold standard of service! Valley Oil tracks the weather, the "heating degree days" and your past patterns of fuel use, and then we schedule deliveries to fill your storage tank before the fuel level gets too low. With Automatic Delivery you don't have to remember to check your tank gauge and call for a delivery, and you don't have to worry about running out of fuel. Automatic delivery customers are also eligible to enroll in our money-saving service contracts and payment plans.
Will-Call Delivery
We understand – some customers like to control their delivery schedules! That's why we offer will-call delivery. All you need to do is keep track of your fuel levels and log in to My Account to place your delivery order. Of course, you can call and speak with one of our friendly service representatives to place your order, if you prefer! Please don't let your tank level go lower than ¼ full. We may need a day or two to schedule your delivery, and you don't want to run out. If you run out of fuel, call (609) 466-0015 to schedule an emergency delivery.
Become a customer today!
Call (609) 466-0015