About Valley Oil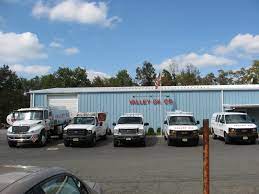 Valley Oil is committed to providing exceptional service to our customers throughout Central New Jersey from our headquarters in Hopewell.
To us, exceptional service means being professional, knowledgeable and reliable. Our technicians undergo regular training on new technologies and equipment and our office staff greet you – by name – and happily answer any of your questions. Our technicians are clean, neat and polite and our management team is always available to speak with you directly if you are ever unhappy with any aspect of our service.
Thank you for trusting us for the past half-century. We look forward to earning that trust and providing exceptional service to you for decades to come.
Valley Oil, Three Generations of Service
On July 11, 1970 Donald V. Terhune and David N. Bregenzer signed a three-page contract to buy the fuel oil business of J.B. Hill & Sons, Inc. of 43 Railroad Ave., Hopewell, NJ. The purchase came with three used GMC fuel oil trucks, a service van, two 20,000-gallon storage tanks, a two-way base radio station and three mobile radios for the trucks. The two men complimented each other well; Don was a skilled mechanic and Dave had experience in the management of fuel oil operations. Their dream was to build a company that would provide dependable and reliable service and deliver fuel oil to their community.
The company built its current office and garages at 54 Somerset Street in Hopewell in the late 1970s. Over the years our staff, services and fleet have grown to meet the home comfort needs of our Central Jersey neighbors.
Don retired in 2016, and Dave ran the company until the day he passed away in 2020. Today, Dave's daughter Dawn D. Gordon runs the day-to-day operations, after years of working by her father's side. Major company decisions are made after reviewing the options with the company's most valued consultants – her siblings, David Jr. and Debbie Skibbee. Many of Dave's grandchildren also work for the company, making us proud to be a three-generation family-owned company.
Today, Valley Oil, Inc. has a staff of 18 employees, a large fleet of oil trucks and service vans and a computerized system to track service and deliveries. Much has changed over the past 50 years, but the one thing that hasn't changed is the dedication the founders based their company on; to provide dependable and reliable service to the customers of our community.
Become a customer today!
Call (609) 466-0015